While selling a home on your own may seem overwhelming at first, with some organization beforehand you can avoid costly mistakes and missing out on potential buyers.
Selling your home without a real estate agent is often done to cut costs and increase profits. However, it's not as easy as just listing the house for sale. There are many pitfalls that a first-time home seller needs to avoid in the FSBO process. You may save thousands in fees, but if you don't avoid these mistakes, it may cost you a lot more in profit or unforeseen expenses.
Making an FSBO Checklist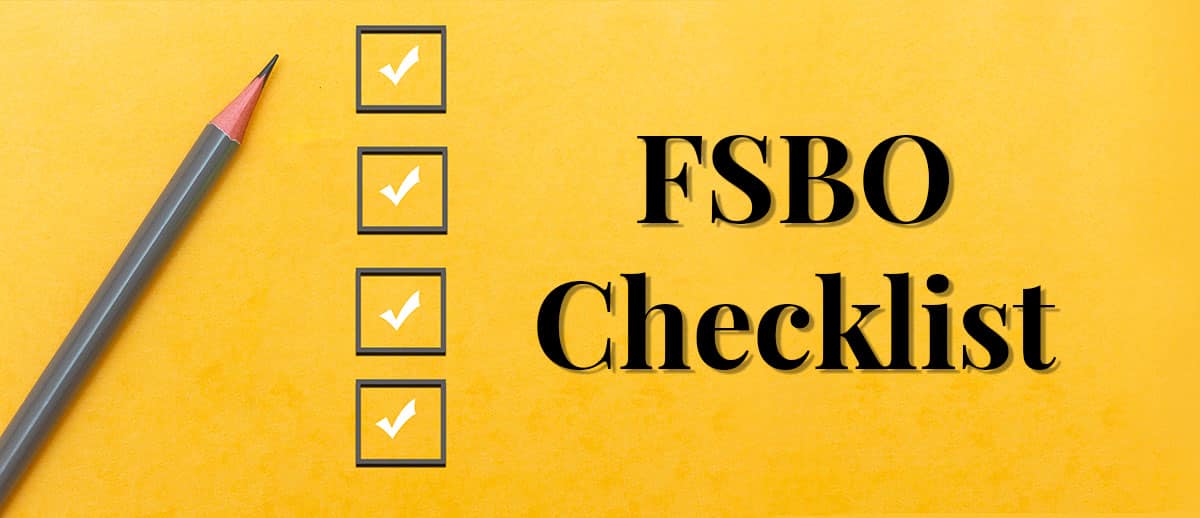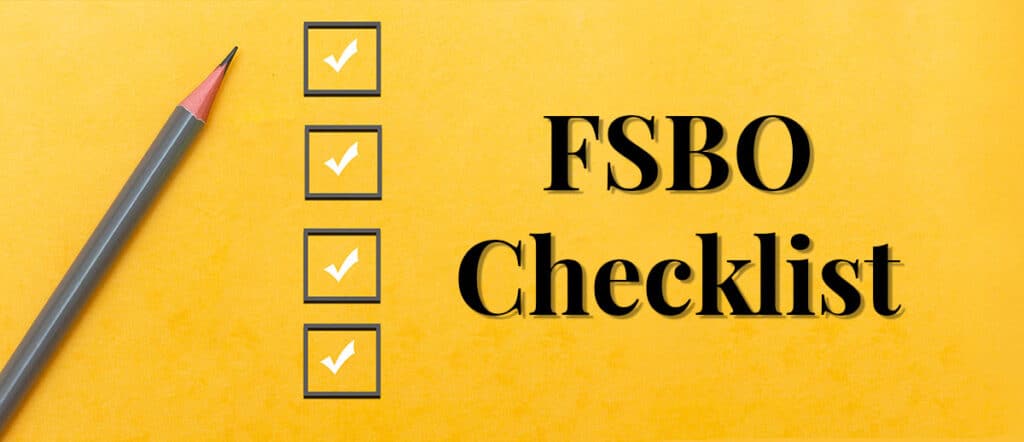 If you've ever bought or sold a home before, you may remember the daunting amount of people and paperwork involved. A common hold-up in the home selling process is dealing with a potential buyer who needs to see some paperwork that you don't have. Not only can this turn off a motivated buyer, but it can also add lengthy delays to your sale, causing you to carry two mortgages for longer than necessary.
Tip: Sell on the day you choose and avoid double mortgages by utilizing Sweetly's Swift Sale
Real estate agents and FSBO's alike can make a checklist of required documents that have a high likelihood of being needed. This way, you can be ahead of the game if prospective buyers request paperwork.
Paperwork Needed to Sell a House Without an Agent
Residential sales contract
Real Property Report (RPR)
Offer and counteroffer forms (blank)
Residential property disclosure form
Third-party financing addendum
A list of chattels (appliances, sheds, included furniture, etc)
The lease agreement of any tenants
Maintenance records (invoices of past renovations or repairs)
Utility bills such as electric, gas, and water
Property tax information
Home inspection
Mortgage statement
Homeowners association
What are all these things?
✔ Residential Sales Contract
A residential sales contract is a purchase agreement that dictates the terms of the sale, purchase price, date of purchase, date of possession, and any conditions that may be made on the sale. For example, some common conditions might be a conditional sale based on the buyer selling their own home, repairs, a home inspection, any included fixtures, or anything that either you or the buyer deem to include.
✔ Real Property Report
A licensed land surveyor prepares a real property report. This is a drawing of the property, buildings, and boundaries of the property. A RPR ensures that the home buyer gets exactly what they paid for with no boundary disputes. For an FSBO, an RPR is the most common document missing that can hold up the closing process.
✔ Offer and Counteroffer forms
It is best to be prepared for multiple offers and counteroffers beforehand so you will have all the necessary paperwork.
✔ Residential Property Disclosure Form
This form includes any known structural or mechanical defects the owner is aware of. This form must be filled out truthfully to the best of the owner's knowledge. If it is not filled out correctly, the home seller may be open to liability.
✔ Third-Party Financing Addendum
A third-party financing addendum will protect the home seller from a significant loss if the home buyers fail to secure a mortgage.
✔ List of Chattels
A chattel can be anything within the house or on the property that is removable without causing damage. Chattel may include furniture, TVs, appliances, mementos, or even sheds. A fixture is something that would cause damage if it is removed. An example would be that a TV is considered chattel, whereas a TV wall mount would be regarded as a fixture.
✔ Lease Agreement
If your home has any tenants, you will need to be able to provide their lease agreement to any prospective buyers.
✔ Maintenance Records
While not strictly considered necessary paperwork, it is best practice to keep any receipts for work that has been done on your house. It may help you get a better price by showing that your home has been well maintained, or a prospective buyer may want to see the records for peace of mind.
✔ Utility Bills
A prospective buyer may want to see your utility bills to understand the costs of owning your home. These include electricity, gas, and water.
✔ Property Tax Information
These will also help the buyers understand the cost of home ownership.
✔ Home Inspection
A home buyer may have their own home inspection done before closing the sale. If you have had one done in the past, it is good to have the paperwork on hand.
✔ Homeowners Association
If you are part of an HOA, it is best practice to have your HOA documents, including any fees and rules.
✔ Mortgage Statement
Listing Your Home
Just because you are doing an FSBO does not mean you can't take advantage of the MLS®. If you're ready to sell your home, you can do what is called a 'mere posting'. This allows you to post your home to the MLS® system for a nominal fee. A mere posting puts your home in front of prospective buyers without utilizing the other services of a real estate agent.
Determining a Purchase Price
One advantage of working with a real estate agent is that they can help you determine the price of your home. They do this by doing what is called a Comparative Market Analysis which considers the recent sold prices of nearby homes into account while adding or subtracting costs based on the features of your home. You can do one yourself by taking a look at recent sold data near you.
Another method is to test out an on-line home value calculator which should get you a good ballpark value, or you can hire an appraiser.
Selling your home without a real estate agent can be daunting; at Sweetly, we try to make real estate easy. We'll purchase your home on your time frame at appraised value less our fee with our Swift Sale, or if you would like to test the open market, we have our Listing With Confidence.
More Reading:
How to Close a Real Estate Deal Without an Agent
Sweetly's Models
With the Swift Sale, you get market value less our fee of 10%. Our payment is net to you with no hidden fees, etc.
It starts with an appraisal to determine the current value of your home. Get 90% of current value on the moving day you choose PLUS the balance of our resale price (less our standard commission). Skip all the showings, interruptions, home fix-ups. Just choose the day you want to move. We pay 90% of appraised value on the day you choose, then resell the property and pay you the full balance – even if it's higher than the original appraisal.
Skip the showings! Sell Sweetly. Get an estimate of your home's value using our on-line home estimate.
A traditional listing allows you to test the market with your price. A listing with Sweetly comes with it's own set of perks.
Test the market with confidence, knowing you'll have a Swift Sale available if your home doesn't sell.
Start with an appraisal to know the current value of your home. Then, decide 'how' you want to sell, BUT before you do, you can shop at your pace to find the right house. Beat out any competing buyer because you won't need a 'condition of sale' so your offers are stronger without spending extra money. Once you have a firm purchase you can sell your house to Sweetly on a day that works best for you.